Leave a Legacy,
Not a Letdown.
At Legacy Manufacturing, we are passionate about building premium-quality bale wagons, inline bale trailers, feeder wagons, round bale feeders, header wagons, and header trailers for farmers and ranchers. If you need to move round hay bales, feed your livestock, or transport a header, it would be our privilege to build you a high-quality trailer that is designed to get the job done.
Hay Equipment
We invite you to check out our lineup of American made bale wagons, inline bale trailers, and bale feeders. We manufacture three models of hay bale wagons. Legacy's bale wagons can haul 8-10 large round bales with a carrying capacity of 16,000 lb to 24,000 lb. Our reliable inline bale trailers can carry from 5-10 round bales over the road. Our inline bale trailers are rated for 14,000 lb.
Feeder Wagons
We manufacture durable feeder wagons right here in the USA. See our lineup of single-trough feeder wagons, double-trough feeder wagons, and round bale feeders. Our manufacturing process is designed to meet the highest standards of quality so you can count on our feeder wagons holding up to the demands of your herd.
Header Trailers
If you are looking for a header wagon to get your header from field to farm, our FieldPro Header Wagon may be just what you need! The single-axle header trailer is suitable for transporting your header over the road. Needing a heavy-duty header trailer? Check out our tandem-axle header trailer. All our trailers are made from superior quality parts and are built to provide you with years of reliable service.
Buy a Legacy Mfg. trailer for your farm so you can spend more time creating your legacy and less time fixing your farm equipment. Find a dealer now!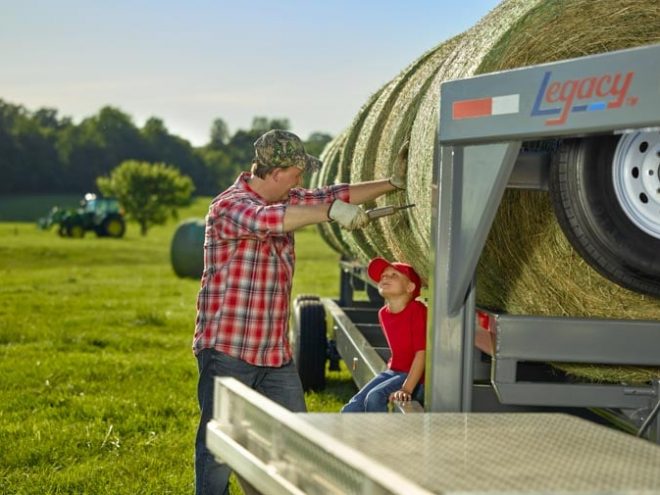 Breakdown-Resistant Hay Equipment
Farmers Depend on the Strength and Quality of Legacy
Header Wagons and Trailers
Transport from field to farm with ease.
Legacy products are built with commitment to strength and durability, while quality of design and appearance are met with affordable pricing.
-David of Pepper Farms
As farmers, we hate equipment breakdowns. We have many important tasks to complete. Fixing broken-down trailers and wagons is not one of them. Legacy manufactures high-quality hay wagons, hay trailers, hay feeders, and header trailers, allowing you to spend more time creating a legacy and less time fixing your equipment.
At Legacy Manufacturing, we asked farmers to tell us their frustrations with their farm equipment. Your stories of broken axles and trailer front-ends and cheap tires helped us design industrial-strength farm equipment that won't let you down. As specialists in hay equipment, we manufacture a variety of durable, reliable hay trailers, wagons, and feeders. Each piece of equipment is made in the USA and manufactured from high-quality parts and built by skilled craftsmen. Guaranteed to give you years of faithful service, our sturdy equipment will keep you rolling for generations.
We know you have better ways to spend your time than fixing equipment. Our equipment is built in our manufacturing facility in Kentucky, employing high-quality control standards to ensure the best farm equipment your money can buy. We use only genuine #1 steel and high-quality parts, such as Bulldog Couplers, Lippert Axles, Schaeffer's Grease, and Hentzent Coatings. Each piece of equipment is finished with a 2-part urethane primer as well as a 2-part urethane topcoat to maintain its aesthetic appeal while protecting it from the elements.
Legacy Manufacturing is a family-owned business serving hardworking farmers around the country from our manufacturing plant in Irvington, Kentucky.